Pet Boarding & Grooming: A Vacation for Your Pet, Too!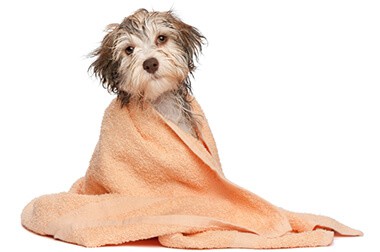 Camrose Veterinary Hospital provides comprehensive veterinary services for your pet. We are pleased to offer pet boarding and grooming services for your convenience. We enjoy having our furry clients stay with us, but you are welcome to board your pet on a non-client basis as well.
Pet Boarding
We appreciate how difficult it is to leave your pet. Our loving and caring staff provides personal attention to your pet while you are away. We cater to pets with special needs and can administer medication, if necessary. Our Animal Health Technicians are qualified to administer medications, and this service is provided at no additional charge for our clients. However, additional fees may apply for non-clients.
Dogs are housed in kennels or in runs, depending on the size of the dog, and are walked twice daily in our dog park. Cats are boarded in double kennels, which allows for the litter box to be separated from their food and bedding.
All boarding animals are required to be current on all immunizations, including bordetella (kennel cough) for dogs. Health exams and vaccinations can be given during your pet's stay, if desired. However, the best protection is offered if the vaccines are done before your pet stays with us.
You may drop off and pick up your pet during our normal business hours. Advance reservations are strongly encouraged to ensure space is available.
Pet Grooming
We are excited to have an experienced technician, Patty Hanson, available for your pet's grooming needs. Patty has many years of experience performing shaves and grooms for dogs and cats. She performs a variety of grooming services and will discuss your preferences and rates before the service begins. Medicated flea and tick baths are available, if necessary. Grooming appointments book up very quickly, and she is often booked six to eight weeks in advance with repeat clients.
We recommend that you bring your pet in slightly hungry (having had a small breakfast) and bring some of their food or treats with you. This will allow Patty to use the food during the grooming process to make it a positive experience.
Many cats will need to be sedated in order to be shaved and bathed. We are able to have a doctor examine your cat and administer the appropriate sedation, if necessary. Additional charges for sedation and examination may apply, and your cat will need to fast for 12 hours before the grooming service.
Please contact us to book your pet boarding or grooming service. We welcome any questions you may have regarding our policies or veterinary service offerings.