Camrose Veterinary Hospital's Policies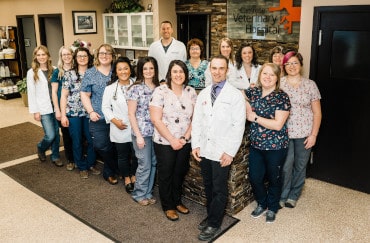 Payment Policy
We require payment at the time services are rendered. We accept cash, all major credit cards, and Interac debit cards. We also work with PetCard Veterinary Financing to finance veterinary procedures with no down payments and low interest financing. Unfortunately, due to a large number of past unpaid bills, we are unable to provide in-clinic payment plans or accept postdated cheques.
Pet Insurance
We believe pet insurance is an excellent way to deal with unexpected or chronic health problems that may occur. We do not promote one insurance carrier over another. In the event you have pet insurance, our staff is willing to assist you by providing the necessary documentation to file your claim. We commonly work with Trupanion, Petsecure, and Purina Pet insurance.
Appointment Policy
To ensure prompt service for everyone, we operate on an appointment schedule. We give emergency cases priority, which can result in the delay of scheduled appointments. We appreciate your prompt arrival to your appointment, to assist us in minimizing delays in the schedule.
We offer "drop-off" appointments, which allow you to drop off your pet for a few hours and pick him or her up following the exam. The doctor will perform the exam as soon as possible and discuss the case with you by phone. A day hospitalization charge may be applied in addition to an examination fee. Please contact us to schedule your appointment.
Patient Arrival Protocol
For safety of all of our patients and clients, please have your dog controlled on a leash while in the reception area. Please inform our staff if you desire to borrow a leash. Additionally, we ask that all cats be kept on a leash or in a carrier. Please ask if you need to borrow a carrier.
Client & Patient Conduct
There is zero tolerance for physical or verbal abuse. Any abusive behaviour will automatically result in expulsion from the hospital and neither the person nor the animal will be allowed to return to the clinic, no exceptions.
If your pet has a history of aggression or biting, please inform the front-end staff. Many animals are uncomfortable or scared when in a clinical setting, and we will assist you to ensure everyone's safety.
Camrose Veterinary Hospital is accepting new clients. Please contact us to schedule your appointment. We are available to answer any questions you may have regarding our policies or procedures.