Veterinary Surgical Services for Animals Large and Small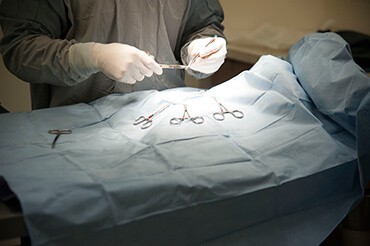 Camrose Veterinary Hospital provides veterinary surgery services for a wide variety of animals, including dogs, cats, small companion pets, equines, bovines, and small ruminants. We appreciate how stressful it can be to have your pet undergo a surgical procedure, and we are available to answer your questions.
Preparing for Your Pet's Surgical Appointment
Preparations for your pet's surgery begin prior to the surgical appointment date. While your pet is under anesthesia, it is the ideal time to perform other minor procedures, such as dentistry, ear cleaning, or implanting an identification microchip. Additional minor procedures should be identified before your surgical appointment. We also require your pet to refrain from eating for 8–10 hours before surgery.
On the date of your pet's surgery your pet will receive a complete health exam and pre-anesthesia blood testing prior to the surgical procedure(optional but highly recommended). If health or safety concerns are identified, it may be necessary to postpone surgery.
Our skilled veterinary staff takes great care to ensure your pet's safety and pain management during the procedure. Our surgical suite is equipped with modern surgical and monitoring equipment to promote the best possible outcome for your pet.
Your pet will continue to be monitored during the recovery period, and we will inform you when he or she is ready to be discharged. When you pick up your pet, you can anticipate spending about 10 minutes to review his or her home care needs.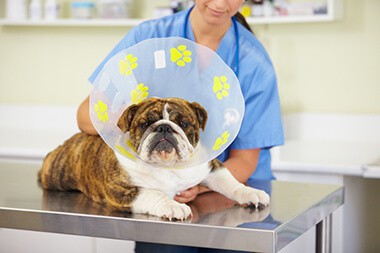 Post-operative Home Care
We will carefully review any post-operative care instructions when you pick up your pet. These might include administering pain medication, reducing your pet's activity level, avoidance of bathing, suture management, or monitoring the incision site for problems.
Please contact us to schedule your pet's surgical appointment. We are available to answer questions regarding your pet's health care.