Onsite Veterinary Pharmacy & Pet Supplies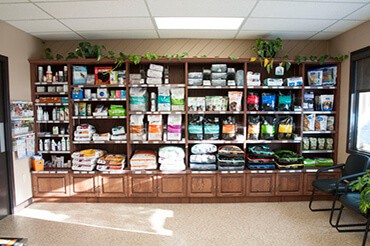 Camrose Veterinary Hospital's recently renovated facility hosts an onsite pharmacy providing both medications and pet supply products for your convenience.
Pet Medications
Your pet's health and safety are important to us. Filling your prescription medication at our pharmacy ensures you are receiving quality medical products from a trusted source. Our veterinary team will carefully review prescription medications with you. We are available to answer your questions and can offer tips to properly administer medications to your pet. Common veterinary medications can be filled the same day.
Pet Products
We offer a variety of health care products for your pet, including:
Prescription and specialty diets
Dietary supplements
Dental care products
Flea and tick products
Parasite treatments
Grooming supplies
Veterinary Pharmacy Hours
Our pet pharmacy is open during normal business hours.
Please contact us; we are available to assist you with all of your veterinary pharmacy needs.