Meet Our Staff
Veterinarians
Dr. Jamie Whiting, DVM
Dr. Whiting graduated from the Western College of Veterinary Medicine in 1998. After graduation, he worked in Viking, Alberta, for four years before purchasing Camrose Veterinary Hospital in 2003. He loves the variety and challenge of mixed animal practice and enjoys educating clients.
Dr. Whiting is a proud father of two boys and loving husband to his wife Julie. He enjoys the great outdoors and is a sports fanatic (Go Oilers!).
Dr. Eddie Rasmussen, DVM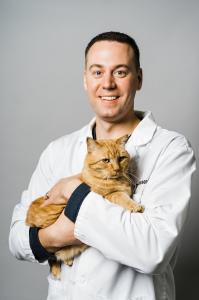 Dr. Rasmussen was raised on a cattle farm near Prince Albert, Saskatchewan. During his upbringing, he was active in sports such as basketball, volleyball, baseball, track and field, and football. He also enjoyed spending time working on his parents' Angus herd, to which he credits his humble and hardworking nature.
A graduate from the Western College of Veterinary Medicine in Saskatoon in the spring of 2013, Dr. Rasmussen enjoys the variety associated with a mixed animal setting and looks forward to interacting with producers and pet owners in the Camrose area. He has particular interests in herd health management, small animal medicine, and theriogenology (reproduction).
His hobbies include camping, hunting, fishing, and cheering for his favourite teams: the Edmonton Oilers and Saskatchewan Roughriders.
Marissa Weleschuk, DVM
Dr. Weleschuk graduated from the University of Calgary Veterinary Medicine program in the spring of 2014. She credits her passion for the agriculture industry to her upbringing on her family's commercial cow/calf farm located near Ponoka, AB. From a young age Dr. Weleschuk was actively involved in agriculture, completing 10 years in beef 4-H and attending junior cattle shows across the Province.
During her years as a University student, Dr. Weleschuk volunteered as a show marshal for the Canadian Bull Congress, was actively involved in the University of Alberta's Multispecies Judging Club, and subsequently in the University of Calgary Production Animal Health Club, and as a 4-H alumni conducted workshops for younger members. Aside from volunteer work, Dr. Weleschuk's hobbies include camping, playing board games, and spending time with friends and family.
Dr. Weleschuk looks forward to the diversity of a mixed animal practice and is enthusiastic to have the opportunity to work with livestock producers and pet owners. Giving back to the community was always a high priority for Dr. Weleschuk, and she is excited to take on this new journey.
Veterinary Staff
Patty Hanson, AHT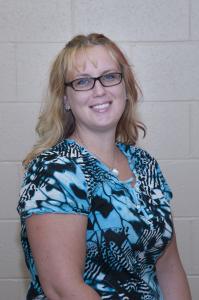 Patty grew up on acreage near Airdrie, Alberta. She attended Lakeland College and received diplomas in Animal Health Technology and Herd Health Technology. She has been with Camrose Veterinary Hospital since the summer of 2000 and enjoys all aspects of her job, especially grooming cats and dogs.
Patty has two cats, Chopper and Mokey, who keep her very entertained. She enjoys camping, fishing, reading, and cross-stitch.
Jessica Roth, AHT
Jessica grew up on a farm by Daysland, Alberta, and graduated from Lakeland College in 2012 with an Animal Health Technology diploma. She has always had a love for animals, big and small, and knew from an early age that she would work with them. Her animals at home on the farm consist of her dogs, Lucky and Bella, Mojo the cat, and many cows. Some of her favourite pastimes include playing sports, reading, and camping.
Lindsay Kucharchuk, AHT
Lindsay grew up on a beef farm in the Cherhill area and graduated from the Animal Health Technology program in Olds in 2010. She joined the Camrose Veterinary Hospital in the fall of 2012. Lindsay enjoys volunteering with World Vets, a program that provides veterinary care in developing countries. She has been to Nicaragua twice, Statia, and the Dominican Republic and has an upcoming trip to Tanzania. When she is not traveling, Lindsay enjoys spending time with her dog, Vinchenzo, and going back home to help with the family farm.
Frances Johnson, AHT
Frances was born in Sudbury, Ontario, and grew up around the globe. From South Sulawesi, Indonesia to Ardrossan, Alberta her love of animals has followed. She attended Lakeland College in Vermilion and graduated with honors in Animal Health Technology. Fran came to the Camrose Veterinary Hospital for her practicum in the Spring of 2014 and has been here since.
Frances has a large family in the surrounding area of Camrose and is looking forward to calling it her new home. In her free time she loves to read, volunteer with 4-H and spend time with her nieces and nephews. Whenever she has a spare moment you can usually find her on the family farm in Fort Pitt, Saskatchewan lending a helping hand with all the critters.
Brenda DeWolfe, Receptionist
Brenda has been with the Camrose Veterinary Hospital since 1998 and has witnessed many changes over the years. She loves her job as receptionist and has come to think of many of the patients as part of her family.
Brenda and her husband, Rob, enjoy golfing, camping, and arguing over which is the better football team: the Eskimos or the Riders (go Esks!).
Carolyn Krause, Receptionist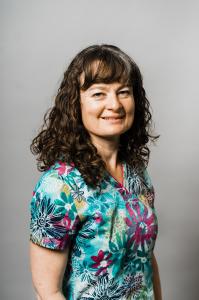 Carolyn has been a receptionist at Camrose Veterinary Hospital since 1992, making her the longest standing employee. She likes the fast pace and the variety of work. She loves interacting with the clients and their animals, which make every day interesting.
When not at work, Carolyn enjoys spending time with her husband, Carl, and their very busy little boy. Their four-legged family includes a horse (Sabre), a mule (Jenny), a dog (Winge), and the cat (Icky). Of course, the cat rules the house!
Hemi , Feline Ambassador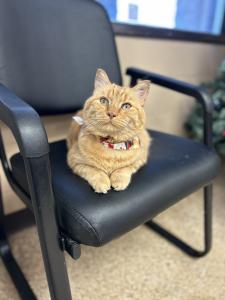 Hemi came to the Camrose Veterinary Hospital in 2009 after a local feline rescue group rescued him. After a clean bill of health, he took the clinic over for his own. After much discussion, he was named after Ales Hemsky (go Oilers!).
He is known for getting into bags of food (cat and dog), Dr. Whiting's lunch bag, and for being very friendly with all animals that come into the clinic. Hemi loves to play and will often hang out on the counter and chase the ends of pens as clients sign cheques.
Hemi loves to go outside (on a tether) to catch mice and present them to the horrified receptionist or technician that goes to bring him inside.
Willy , Feline Ambassador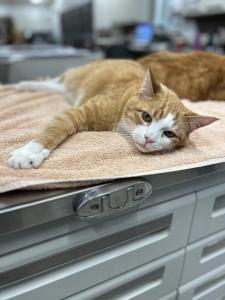 Willy came to live with us in the summer of 2012 after his original owners were not able to manage his injuries after being caught in a running motor. We nursed his elbow injury back to almost 100%, and he has lived with us since. He tends to be a nervous guy and stays back in the treatment area unless it is very quiet up front.
Willy has learned a lot of bad habits from Hemi and often can be found stealing all types of food or trying to tip over the food container.