Meet Our Staff
Veterinarians
Dr. Jamie Whiting, DVM
Dr. Jamie Whiting graduated from Western College of Veterinary Medicine in Saskatoon in 1998 and proceeded to work in Viking for 4 years. In July 2002 he came to Camrose and became owner of the then Camrose Veterinary Group in January 2003. Dr. Whiting enjoys working on all animal species and takes particular pleasure in educating clients about their animals health care. He has tried to focus on continually improving all aspects of the practice from client and patient care to employee knowledge to upgrading the facility. Dr. Whiting is happily married with two active boys and two orange cats. He enjoys CrossFit, travel, outdoor adventures and watching his boys play sports.
Dr. Marissa Weleschuk, DVM
Dr. Weleschuk graduated from the University of Calgary Veterinary Medicine program in the spring of 2014. She credits her passion for the agriculture industry to her upbringing on her family's commercial cow/calf farm located near Ponoka, AB. From a young age Dr. Weleschuk was actively involved in agriculture, completing 10 years in beef 4-H and attending junior cattle shows across the Province.
During her years as a University student, Dr. Weleschuk volunteered as a show marshal for the Canadian Bull Congress, was actively involved in the University of Alberta's Multispecies Judging Club, and subsequently in the University of Calgary Production Animal Health Club, and as a 4-H alumni conducted workshops for younger members. Aside from volunteer work, Dr. Weleschuk's hobbies include camping, playing board games, and spending time with friends and family.
Dr. Weleschuk looks forward to the diversity of a mixed animal practice and is enthusiastic to have the opportunity to work with livestock producers and pet owners. Giving back to the community was always a high priority for Dr. Weleschuk, and she is excited to take on this new journey.
Dr. Taryn Ng, DVM
Born and raised in Vancouver, BC, Dr. Ng has always had a passion for animals. Graduating from the Western College of Veterinary Medicine in 2014, she worked in Strathmore at a busy mixed animal practice. Love brought her to Camrose in the spring of 2016, where she joined our CVH team. Taryn loves getting to know her clients and chatting about their pets or herds. She loves all aspects of mixed animal practice, from large animal obstetrics and c-sections to small animal internal medicine. She has a strong passion for traveling and immersing herself in new cultures and food. In her free time, you can find her gardening, horseback riding, and hiking/camping in the mountains during the summers and in the fall and winter she is busy canning, cooking, skiing and hosting dinner parties with friends. She has 3 cats (Mr. Man, Piper and Gophie) all acquired from different clinics she has worked at, and 2 very spoiled family Westies (Oliver and Gordon).
Dr. Nicole MacDonald, DVM
From the age of 4, Dr. Nicole Macdonald knew that she wanted to be a veterinarian. Surrounded by animals growing up in Kelowna, BC, Nicole came to Camrose, attending Augustana University to pursue her Bachelor of Science. Three years into her degree, she was accepted into the Western College of Veterinary Medicine in Saskatoon and decided to jump at the chance.She graduated in 2015 and went into mixed animal practice in Ponoka. In 2017 she made the move to Camrose and has been working at CVH ever since. Nicole enjoys all aspects of veterinary medicine but has a strong passion for geriatric cats, arthritis, diabetes mellitus, equine lacerations, lump removals, dentals and breeding soundness exams in bulls. In her spare time, Nicole spends time with her family of two small children, 3 cats and a dog. She also loves to hike, cross-country ski, snowboard, travel, bake, watch sports and read.
Dr. Antha Brown, DVM
Dr. Antha Brown grew up in Calgary, Alberta. She attended the University of Alberta in Edmonton, where she discovered her love for dairy cows. After 3 years at the U of A she was accepted into the University of Calgary's Faculty of Veterinary Medicine and made the move back down to Calgary. After graduation, she joined the CVH team in 2021. While she enjoys many aspects of veterinary medicine, some of her favorite things are preventative wellness exams, bovine pregnancy checks, surgeries, and dentals. You can often find her telling bad dad jokes, enjoying a coffee or three, and showing off her dance moves in the treatment area. In her free time, she enjoys camping, leisurely hikes, barre exercise classes, and reading thrillers. She shares her life with 2 cats - Enzo and Bella, 2 rescue dogs- Rosie and Gunner (he's 3-legged!), and 1 husband (Justin).
Dr. Erin Carlson, DVM
Dr. Erin Carlson started at CVH in 2021 after graduating from the Western College of Veterinary Medicine in Saskatchewan. Erin loves the variety that comes with mixed animal practice and enjoys helping those who may have atypical companions, as she herself had her late hermit crab side-kick for 9 years! Erin and her partner, Michael, now have three kitties - Bridget, Dennis and Toby Toebeans, as well as their python Olivine! Adventure always awaits as Erin has travelled overseas to work with a variety of species including big cats, a plethora of reptiles, elephants and more locally`, sled dogs. Albeit Erin may have a taste for the wild side, she always looks forward to seeing what everyday brings in Camrose.
Veterinary Technician
Patty Hanson, RVT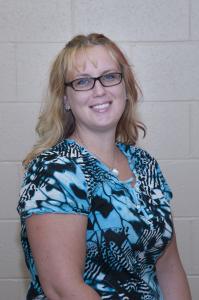 Patty joined our team in 2000 after her studies at Lakeland College. Originally from the Airdrie area, Patty has called Camrose home ever since. She is active in the community, joining the bowling league every fall, cheering on local slo-pitch teams, and volunteering at the Bruce Stampede. In her spare time Patty and her husband love to visit with family - she is a proud aunty to two nieces and a nephew. She also has three kitties who keep her on her toes, one whom she grooms often! Patty has been our resident groomer since learning the trade hands on. While Patty enjoys all aspects of mixed animal practice, her favorite animals to see at the clinic are Calico cats, Golden Retrievers and Bernese Mountain dogs.
Lindsay Kucharchuk, RVT
Lindsay graduated from Olds College in 2010 with a diploma in Animal Health Technology. She joined our CVH team in the fall of 2012. When not working she can be found helping on the family beef farm near Cherhill, especially during calving season. Lindsay has volunteered with World Vets numerous times over her tech career helping animals in developing countries. She has a Jack Russell mixed named Vinny and three cats LJ, Turk and Butters. Two of which were adopted from the Camrose and Area Animal Shelter! You can be certain when a Terrier or Goat comes in Lindsay will be sure to give them an extra cuddle.
Frances Johnson, RVT
Frances was born in Sudbury, Ontario, and grew up around the globe. From South Sulawesi, Indonesia to Ardrossan, Alberta her love of animals has followed. She attended Lakeland College in Vermilion and graduated with honors in Animal Health Technology. Fran came to the Camrose Veterinary Hospital for her practicum in the Spring of 2014 and has been here since.
She loves to see all the unique and interesting animals - bunnies, skinny pigs, bearded dragons, pot bellied pigs, sphynx's, fancy purebred kitties and all squishy faced dogs get extra love and cuddles from her! She especially loves calving season and dog c-sections, whether it be at 2pm or 2am, she is on board to lend a hand. In her free time, Fran loves to read and garden, often spending her summers captaining her dad's boat, and is an avid traveler of the world. She has 2 cats (Thor & Loki), a dog named Piggy, and enjoys testing new recipes and cooking techniques with her partner Kyle.
Kayla Preston, RVT
Kayla has been a Registered Veterinary Technician for eight years. She graduated with honors from the Animal Health Technology program at Lakeland College in 2014. She started working at a mixed animal practice in Wetaskiwin before joining the Camrose Veterinary Hospital team in January 2016. She enjoys all aspects of her career, but really enjoys doing dentals and taking care of hospitalized patients. She loves all the animals that come through our doors but does have a soft spot for small fluffy dogs and exotic species. Outside of work, Kayla is kept busy by her family. Her and her husband Bobby have a 2.5-year-old son who always keeps them on their toes, and they are expecting their second child in April 2023. She has a Shih Tzu mix named Odie and an orange cat named Sutton. Kayla enjoys watching her husband play various sports, spending weekends outside going for walks or to the park and stargazing.
Chelsie Hall, RVT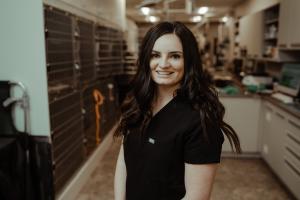 Chelsie graduated from Lakeland College with her Animal Health Technology Diploma in the spring of 2017, and found herself close to home working at CVH shortly after her practicum placement. Her passion for animals began as a small girl stuffing her pockets with kittens and spending a lot of time outside with the farm animals. Chelsie grew up on a farm north east of Camrose where her and her family have a Angus/Simmental cow calf operation. She enjoys spending her free time at the farm working cattle and playing a huge part of the herd health, spending time with family and, of course, shopping! Chelsie enjoys many aspects of her career like monitoring anesthesia, nursing hospitalized patients, and communicating with clients but most of all she enjoys being in large animal and helping farmers with their calving seasons. She also has a loyal side kick here at the clinic - HEMI! He loves to assist her when she makes phone calls, and is always there to share her lunch. She's been known to share her roast beef with him, and in return he brings her cuddles and dead mice.
Angela Vermeer, RVT
Angela got her Animal Health Technology diploma at Lakeland College in 2016. She started at CVH in February of 2018 after working for 2 years at the clinic in her hometown of Stettler, AB. In her spare time you will find her helping out at her husband's family dairy or hanging out with her pets Phyllis, Bella and Fleur. Angela's favorite animals to see are Holstein cows, Bernese Mountain dogs, and grey tabby cats. Her favorite things to do in the clinic are help with sick calves, dental COHATs, and anything to do with dairy cows.
Victoria Hallam, RVT
Victoria graduated with her Animal Health Technology diploma from NAIT in 2019, Vicky came to CVH for her practicum and has been here ever since! In her spare time, Vicky enjoys going for walks with her husband and dog Winnie, hanging out with her two cats, and rocking out to heavy metal music. She is a great team player- during the summer you can find her on the field playing slo-pitch with a few different teams in the community and in the fall she is busy playing volleyball! In the clinic, you'll usually find her in the lab looking at samples under the microscope - she is our go to encyclopedia for what types of cells we may be looking at! Although she loves every animal that comes through the clinic doors, her favorite patients are definitely boxers!
Teagan Nott, RVT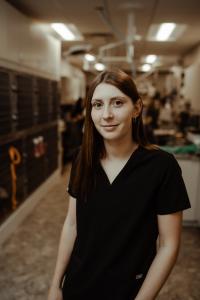 Teagan is originally from Innisfree, where she grew up on her families mixed grain and cow/calf operation. After completing the Animal Health Tech program at Lakeland College in 2020 she joined the CVH team. Teagan has a passion for both large and small animal, she is always willing to learn new things and give a helping hand. On her days away from the clinic, she can be found working on her families farm, helping with everything from harvesting to calving. She hopes to continue to grown her own herd too! In her free time, Teagan is very active in the sporting community playing slow pitch during the summer, volleyball in the fall & winter, and of course, curling with the local curling league. If that didn't keep her busy enough, she is also an avid outdoors(wo)man, spending a lot of time out in the bush hunting.
Veterinary Medical Assistant
Keary-Lee Stordahl, VMA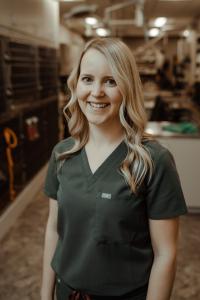 Keary-Lee started with us in 2015 as a work experience student in high school! She couldn't get enough of us and after studying at Lakeland College she joined our team as a Veterinary Medical Assistant in 2018. In between helping in the treatment room and assisting in reception, Keary-Lee also handles our inventory! Fondly referred to as the inventory manager of the clinic, you can rest assured she keeps us in stock with all our life saving medications- and food too! She is a local farm girl from the Bawlf area, who loves the outdoors - often taking trips to the mountains each summer with family for trail riding, caring for the cattle she owns with her husband, as well as maintaining a plentiful garden every year. When hunting season is open, Keary-Lee and her husband are out in the bush. She loves to see heelers of all kinds, owning two herself she has a soft spot for them! You can be sure that anytime a heeler or a horse comes into the clinic, Keary-Lee will be helping!
Veterinary Staff
Carolyn Krause

Receptionist
Carolyn has been a receptionist at CVH since 1992, making her the longest standing employee! She likes the fast pace and variety of work. She loves interacting with the clients and their animals, which makes every day interesting. When not at the clinic, Carolyn enjoys spending time on the farm with her husband Carl and their teenage son.
Carolyn's furry friends include a dog named Jipsy, cats Snuggles and Purry, plus a three legged hamster named Hammy! They also have a variety of farm animals to keep everyone busy.
Abrianna Oxamitny, VMA

Receptionist
Abby joined our team in 2020 after completing her Veterinary Medical Assistant course at NAIT. While Abby used to be a dog person, since starting here and volunteering at the Camrose & Area Animal Shelter Society, she is now a certified crazy cat lady. If you have a cat, she will cuddle it! She loves the steady work environment and seeing the different species that come into the clinic everyday. In her free time you can find Abby cuddling her two cats and gecko, crocheting or painting.
Sydney Stang, VHA

Receptionist
Sydney is originally from Macklin, Saskatchewan. Her family then made their way to an acreage just outside of Camrose. There she enjoyed playing with the family pets and occasionally catching the odd snake and salamander. Ultimately, her passion for animals grew and not long after high school she got her Veterinary Hospital Assistant certificate in 2016 from the Centre for Arts and Technology in BC. She now resides with her husband in their home here in Camrose with their two rescue cats. Her favorite thing to do is meet the variety of pets and build relationships with their owners!
Chloe Froehler, VOA

Receptionist
Chloe joined our team September 2022. Chloe volunteered as a student in the Fall of 2019, then after completing her studies at Norquest College earning her Veterinary Office Assistance Certificate she was hired after her practicum with us. Chloe is a local girl, related to what seems like half our clientele! In her free time Chloe loves to spend time with her dog, Moose, a cockapoo! She is an avid tea lover, enjoys kayaking & hiking during the summer, as well as conquering videogame worlds. Chloe loves to cuddle any cockapoo dogs that come in to the clinic, and she has a special place in her heart for special needs kittens too.
Hemi

Feline Ambassador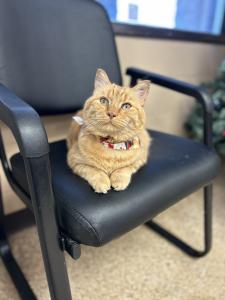 This kitty needs no introduction - he's probably already made himself well known to everyone who comes through our doors. From greeting clients and their pets, to stealing snacks and human foods, he also enjoys mousing and napping on the heated surgery bed. He even has his own Instagram! @hemi_from_cvh. Hemi originated as "Honey Bear" with a local rescue group back in the early 2000's - his infectious personality worked its magic on us and in 2008 he became an official CVH clinic cat."Honey Bear" just wasn't quite right, so along came the name change to Hemi - after the former Oiler Ales Hemsky! Recently diagnosed with hyperthyroidism, Hemi enjoys his daily pill pockets and extra attention.Hemi has had quite the life here - and at 15 years young - he still snoozes on the surgery bed (even when there are other patients using it!!), steals human food, and enjoys greeting clients.
Willy

Feline Ambassador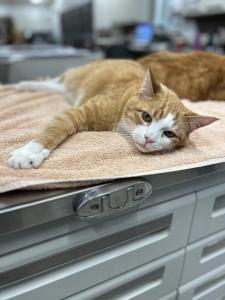 Willy originally came to us as an injured kitten in the spring of 2012. After lots of TLC his nose and elbow wounds healed up great and he stole the hearts of the CVH staff. Willy is just like Hemi in his love of snacks and heated surgery beds, although he is not as brave. Willy prefers a quiet atmosphere with people he trusts, so not often does he venture to the reception area to visit. In 2018 his elbow started to hurt him, and after extensive therapy and no improvement, we amputated his front leg. He's been doing fantastic as a tripod clinic kitty since! Our love of pastries has kept him chubby - and you can bet anytime a puppy doesn't finish their lick mat- Willy will. He loves cuddles, sharing oranges with staff members and is an avid lover of hair, if he can rub in it, he will! He may be shy with people, but you can bet he is the 'walmart greeter' of the treatment room - he loves to visit with kitties in for surgery! He's especially spoiled now that Hemi gets pill pockets every day, as Willy gets to have his 'placebo' pill pocket as well.