Techniques for Pet Pain Management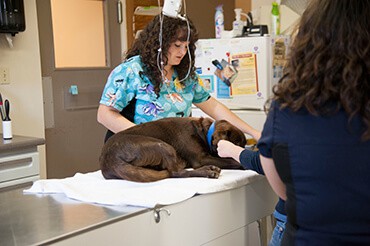 Your pet's comfort and safety are very important to us. Camrose Veterinary Hospital uses a variety of pain management techniques to ensure that your pet is as comfortable as possible during diagnostic or surgical procedures. Additional pain medications may be prescribed for post-surgical pain.
Anesthesia
We perform a thorough physical exam and blood testing (optional but highly recommended) before administering anesthesia. Pets can have serious organ system problems that cannot be detected without blood testing, and our in-house lab can provide rapid results on the day of surgery. Based on the blood test and physical exam results, we are able to tailor the anesthesia protocol to minimize health risks. Geriatric or ill pets may require additional blood tests, electrocardiograms, or X-rays before surgery. We require your pet fast for 8–10 hours to reduce the risk of vomiting, but you may provide water until the morning of surgery.
Post-Surgical Pain Management for Dogs
We use newer canine medications which are less likely to cause stomach upset. Never use human pain medications as these can be fatal when used in dogs.
Post-Surgical Pain Management for Cats
Cats do not tolerate standard pain medications such as aspirin, ibuprofen, or Tylenol. Recent advances in pain medications have allowed for better pain control in cats, and we administer a pain medication injection during surgery. Follow-up pain medication is prescribed on a case-by-case basis.
Providing appropriate pain relief is a caring thing to do for your pet. Rest assured any pet that appears to be in pain will receive proper pain management support. Please contact us regarding questions or concerns about your pet's pain management plan.